Powerful females in hospitality

International Women's Day 2021
March 8th is International Women's Day 2021, marking a day for reflection and celebration of powerful females. Today we shine a light to the women of influence in some of our favourite restaurants, and raise a glass to the sisterhood in Australia's world class food and hospitality industry!
Women of influence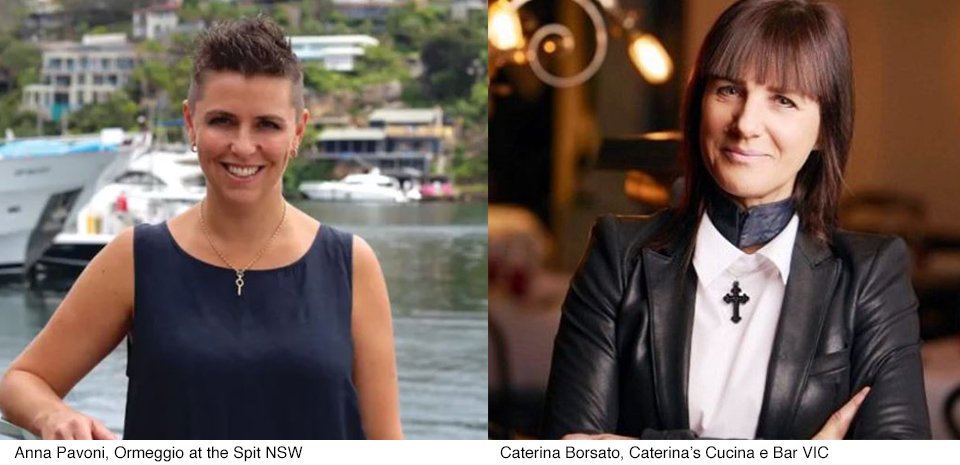 Caterina Borsato
Caterina Borsato is one of a kind and so is her food. She embodies Italy in spirit and on the plate, for more than 25 years Caterina's has become a Melbourne institution, she leads her team with sincerity, passion and professionalism. Her all Italian staff bring an authenticity to the dining experience that is simply unmatched, but the reason for years of loyal customers is Caterina herself, a true legend of her field.
Anna

Pavoni
The Co-owner of Ormeggio at the Spit, Anna Pavoni knows what makes the restaurant world tick, she understands the importance of professionalism and a true passion for people and food. Anna is a champion for women in the hospitality scene, a founding member of WoHo a non for profit organization that supports the career development of women in the industry. This IWD we say three cheers to Anna and the team at Ormeggio who prove the (restaurant) future is female!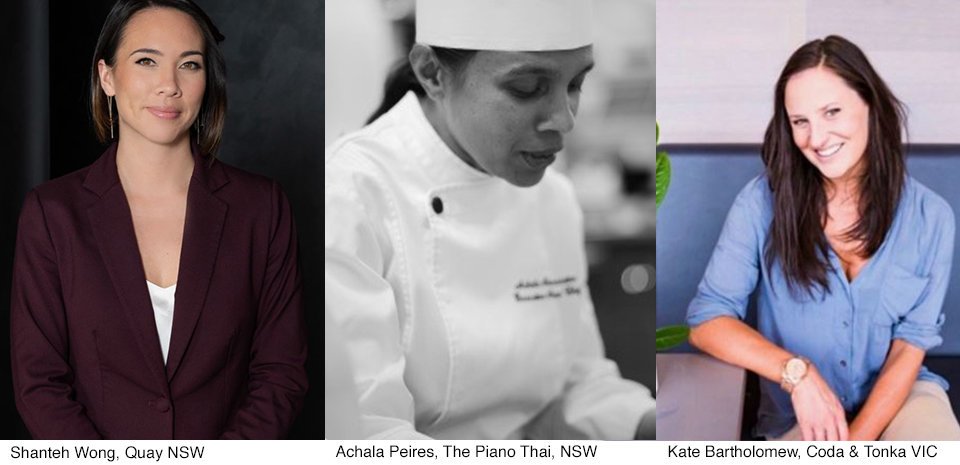 Shanteh

Wong
Some may say Quay's Shanteh Wong has the best job in the world…head Sommelier of the illustrious Fink Group restaurant Quay. After finishing in the top 10 Australian candidates in her Court of Master Sommeliers, it's clear than Shanteh's skills are unmatched and she is a true expert in her field. In an industry where on 16% of sommeliers are women, This IWD we Celebrate Shanteh for paving the way for future wine experts and goal kicking females in the Food and Wine industry.
Kate Bartholomew
Owner of Coda and Tonka restaurants, VIC
Kate Bartholomew started polishing cutlery at the age of 14 and never looked back, food was her passion. A co-creator the successful Tonka, Coda and now Coda Lorne restaurants, Kate knows the ingredients to make the perfect business come together, with a passion for customer experience and a down to earth view on all things dining there is no wonder why Coda and Tonka remain successful stalwarts of the Melbourne Foodie Scene.
Achala Peires
The Piano Thai is proudly female led, with award winning chef/owner Achala Peires one of the two head chefs at this Thai favourite. Achala holds over twenty years of fine dining experience, including the award of TAA/AHA NSW Chef of the Year in 2016. Her passion for people and food is just as authentic as the Thai cuisine classics she whips up. For a taste of Thailand, visiting Achala and her team is a MUST when in Melbourne, and everyday feels like IWD.
Looking for a way to celebrate the powerful women in your life? Treat them to a night out with a Good Food Gift Card, available here.
Have a friend that would enjoy dining?