How to find the perfect Christmas produce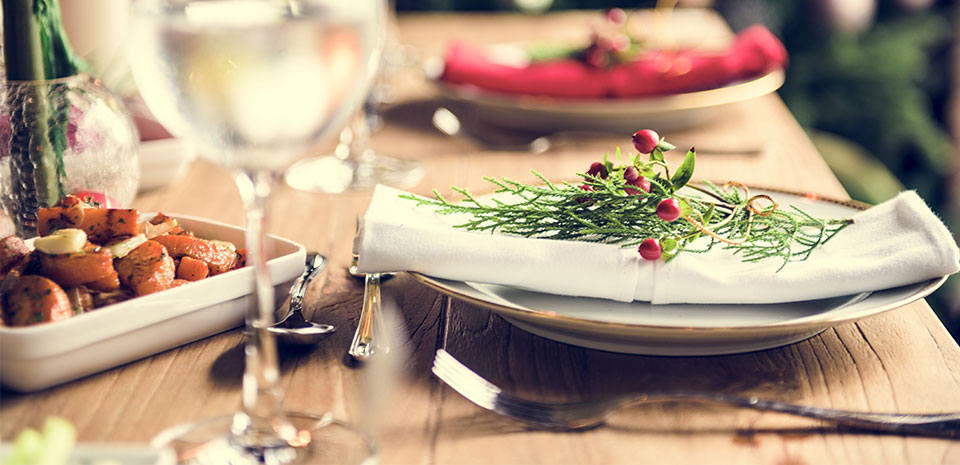 Our restauranteurs tell all!
Having Christmas dinner at your place can be stressful, especially if you don't know what to look for in great produce. We looked at where some of our restaurants source their Christmas produce from, here are a few tips on how you can make your Christmas dinner the best feast yet.
Pork

Pork tends to be a Christmas staple and is the masterpiece of many tables. When looking for high quality pork ensure that you pick meat that is pinkish red in colour, this will provide the most juicy and tender meat when cooked. Avoid meat that has a greyish tinge or a dark coloured bone, the fat on the piece of pork should always be crisp white with no dark spots.
With a true and devout focus on the paddock to plate mentality, Cataract on Paterson carries the values of heart and honesty through each of their dishes. For the perfect crackling on the big day look no further than the family owned Scottsdale Pork, providing delicious and succulent Tasmanian offerings with over 20 years of farming experience.
Oysters
Most Christmas banquets in Australia are known to begin with the seafood course- no course suits the hot Christmas weather more! Fresh oysters will smell briny like the sea, and appear robust in size and saltiness. Steer away from those that look milky, shrivelled or scent Top Tip: Make restaurant quality Mignonette sauce at home by combining a finely sliced shallot and red wine vinegar to taste!
When you think of Coffin Bay in South Australia the first thing that comes to mind for most Australians is simply, Oysters…and lots of them! For 1802 Oyster Bar the name says is all, served fresh with a squeeze of lemon or perhaps Kilpatrick is more your style the oysters on offer will never disappoint. To bring the sophistication of fresh oysters to your Christmas Table, Coffin Bay provides the best quality for Oysters. Known for their sweet and complex meaty flavor, there is a reason Coffin Bay Oysters have been bought by seafood lovers for their at home feasts since 1840!
Red Meat

It's not unusual to serve multiple types of meat, with roast beef or lamb likely to get an appearance. Whichever variant you serve, ensure to look for a deep red colour, the best offering will present firm and dry. Avoid produce that appears grey or wet and too much fat content.
OTTO Brisbane knows quality, this is evident through every dish that travels from the pass to the table. Perfect meals however, start with perfect produce and this Christmas you can recreate this perfection at your very own table. Bring South East Queensland's finest quality meat to your table for a restaurant worthy meal using prime cut beef sourced from the local Brisbane area as well as throughout Australia. OTTO Brisbane supports local and hails Prime Cut Meat as the GO-TO when it comes to the perfect offering from Beef to Chicken to Pork, all bases will be covered this Christmas.
Wine
Storing your wine for the big day is as important as prepping the tukey correctly! For White Wine, ensure you store between 7-18 degrees celsius to allow for a crisp taste when served. Follow the same advice for your Rosé as the White, remember that exposure to warmish air will make the wine mature to quickly! For red wine keep out of the light and store under room temperature for best taste and maturation.
The name really says it all, Neighborhood Wines provides an array of bespoke Wine & Beer from local and international purveyors. Provide an array of offerings for your Christmas Guests and support local with wines from the likes of Mt Gambier, Macedon Ranges & the Mornington Peninsula on offer!
Prefer to dine out for Christmas? With a Good Food Gift Card, you can dine at hundreds of fine dining experiences, selected specifically for their great service, fine produce and excellent reviews.
Have a friend that would enjoy dining?